Elstree Studios wins Spirit of Hertfordshire
29 September 2016
Last week Elstree Studios won the "Spirit of Hertfordshire" award at the Hertfordshire Digital Awards 2016. Only one organisation is selected each year due to their lifetime achievement in their digital work.
The award ceremony was held at the University of Hertfordshire. Former BBC presenter, Robin Bailey was the chair of the judging panel and was also the host for the evening.
Iain Johnson, Director of The Digital Awards said;
'The award recognises the consistent achievements of one organisation which has used digital platforms in a significant way to attract interest into the county of Hertfordshire.'
The Hertfordshire Digital Awards is the first and only awards scheme in Hertfordshire solely to recognise the online work of businesses, charities and schools across the county. The aim is to celebrate the work of Hertfordshire organisations and promote the digital economy.
Iain Johnson said Elstree Studios has been hand-picked by the Hertfordshire Digital Awards team as the recipient of this special award for going above and beyond the norm for the promotion and betterment of the county of Hertfordshire through Elstree Studios digital work having excelled in attracting attention and interest into the county over a number of years through digital work, in particular through Elstree Studios outstanding communication and information sharing on social media.

Businesses, charities and schools who entered the scheme over the past several months and were selected as finalists, will find out the winners of this year's Hertfordshire Digital Awards across various categories for their online work.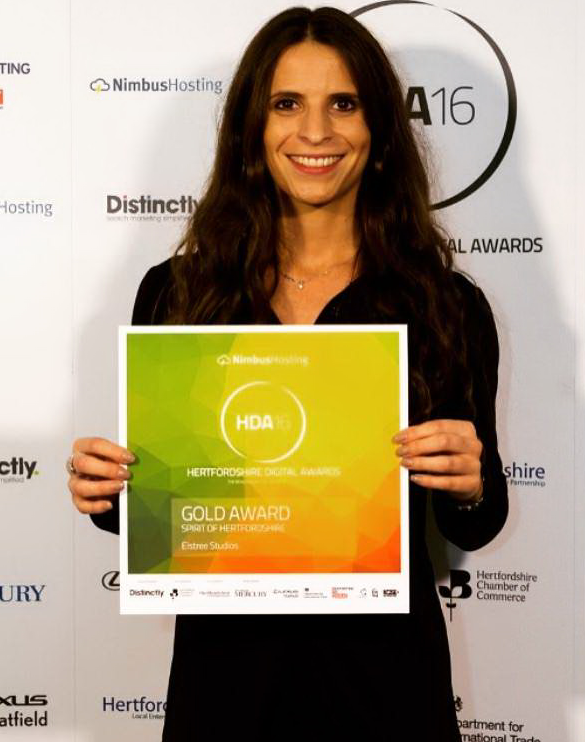 Joely Hertz (pictured above), Marketing Coordinator at Elstree Studios who collected the award said;
'We are very proud to receive the Spirit of Hertfordshire Digital Award. We recognise that we live in the digital world and even though we are one of the world's most famous studios we try to ensure that we maintain a high profile using every means possible and in particular in the digital arena. I would like to thank the Hertfordshire Digital Awards team for recognising our hard work.'
More on Elstree Studios