Spotlight on...Union VFX: Soho to San Francisco
2 November 2016
Union VFX is an independent visual effects company, located in the heart of Soho. Founded in 2008 by Tim Caplan and Adam Gascoyne, Union has been the sole visual-effects studio behind many prestigious film projects, including Steve Jobs, Suffragette and The Theory of Everything. Victoria Johnson asked co-founder of Union and its lead visual-effects executive producer Tim Caplan (pictured below) about how their business is developing.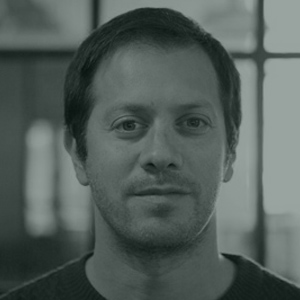 Union VFX became a successful name in a short amount of time – can you give us some insight into the company?
Union was started by me and Adam (Adam Gascoyne, VFX Supervisor and Co-Founder of Union) off the back of a lot of combined experience in VFX, but with a desire to offer a more personal, creative service.
If you were to sum up Union's way of working and values what would they be?
We work very much in a creative partnership with our clients. We work a lot as sole vendor on projects and, as such are involved right from the beginning which affords us the opportunity to offer up ideas and advice early and influence how things are shot to make production as efficient as possible.
We thrive when we are part of a wider creative team working together to achieve the Director's creative vision.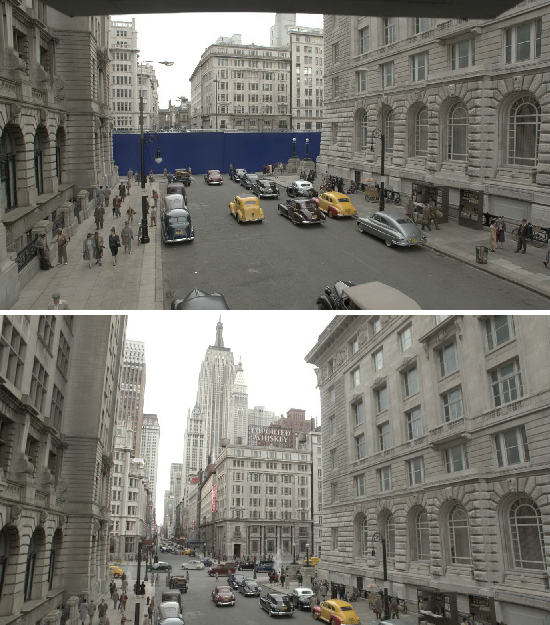 Above: Florence Foster Jenkins
Are there any drawbacks to running a medium-size facility?
A strong core team facilitates collaboration and knowledge sharing while maintaining continuity for the clients. The challenge is maintaining the team as we grow. We tackle this by being careful about the projects we work on, ensuring that they are both creatively challenging and appropriately resourced. This allows us to grow dynamically and develop the team's skillset as we go.
Union VFX was involved in the 2012 Olympics Opening Ceremony directed Danny Boyle. How was that experience and did it raise any new challenges?
Adam has been working with Danny for over 15 years and was thrilled to be invited to be part of his core creative team on the Olympics Opening Ceremony. Alongside his creative colleagues (a writer, production designer, directors and musical directors), Adam was involved from brainstorming in late 2009 through to delivery on the big day.
In the wake of the success of the Beijing Olympics and with an international audience of 900 million viewers, contributing such a significant element to the 2012 Olympic opening ceremony was a slightly daunting, but amazing challenge that the whole Union team relished.
The project was, of course, shrouded in secrecy and we were involved from pre-vis until delivery, but the team did us proud keeping tight lipped about what we were up to. And most of them were involved shooting around numerous London locations, with some spending days in waders in the Thames and Adam himself acting as marine cameraman.
We had a very narrow window to get what we needed on location, but Her Majesty was a true professional and did it all in one take! The Corgis were also pretty well behaved.
The day of the shoot Adam (very uncharacteristically clad in a suit) and I were at lunch with one of our American clients. Adam had to leave early to head to the shoot and joked that he was 'off to Buckingham Palace to see the Queen'. He was telling the truth, but our client just thought we were being quirky Brits.
How do you see the VFX industry in the UK at the moment? Do you see maintaining the Soho culture as important in the UK VFX industry?
The UK VFX industry is thriving - especially with the growth of high end television projects. The talent pool is internationally recognised and globally competitive.
The tax breaks and the current exchange rates are also helping to secure an exciting level of production in the UK.
Productions also seem to have a greater appreciation for the value and creative input that VFX companies bring to a project. They're realising that bringing VFX in as a core part of the creative team early in the process and budgeting realistically produces a better result all round. Expert advice can be offered before the cameras roll on how to accomplish the best possible result, often this means suggesting a non-VFX approach.
As far as Soho culture goes, it's still pretty strong and we love being a part of it.
Obviously, work can be done in other locations, but most of the cutting rooms are in Soho and we find that being here makes it easy for Directors to pop in to review shots and vice-versa. This enables them to give direct feedback, removing any ambiguity and making the whole process more efficient.
The community as a whole works well together. Companies often collaborate on larger projects and being in close proximity facilitates that.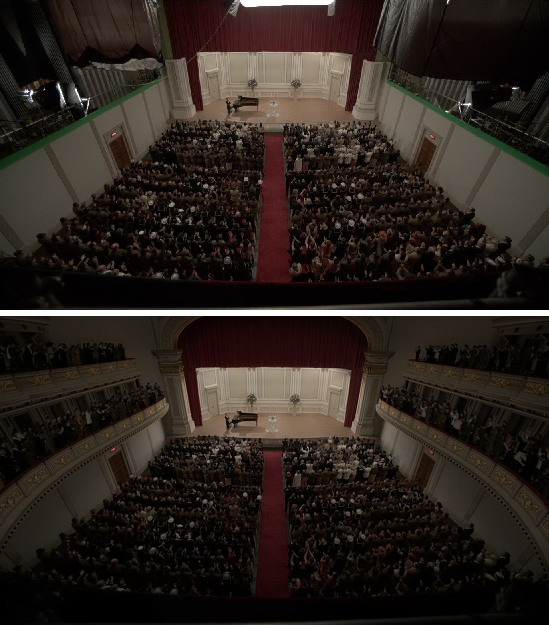 Above: Florence Foster Jenkins
Recently Union has been involved with the acclaimed films Suffragette, Steve Jobs and Florence Foster Jenkins to name a few; can you tell us more about your involvement in these projects?
We were the sole vendor on all these projects so were involved very early on.
As Danny was shooting in San Francisco on Steve Jobs, he was keen to have his core creative team around him. Much of the action takes place in heavily mirrored dressing rooms, so making sure the crew weren't visible accounted for a fair bit of the work. Having Adam on set made ensured that things were shot in a way that made this as easy as possible to tackle for the crew back in London and helped production keep the costs down so it was a win-win.
For Suffragette we worked closely with Sarah Gavron to bring this historical struggle for women's rights to life. There was a lot of crowd work, replicating the protests in London as support for the movement swelled their numbers.
When it came to the famous incident at Epsom Downs racecourse, it was amazing to work with the original news footage from 1913 as reference. We were able to match some of the angles from the original footage as well as recreate an enthusiastic crowd of 100,000 from a few hundred extras.
There was also a lot of environment work to make the period setting believable including recreating a riot in Oxford Street at the turn of the century.
The real challenges on Florence Foster Jenkins were again placing the story believably into the 1940s. We filmed at multiple locations around the UK (Glasgow, Liverpool and areas of London) and transformed them into New York best-known districts — Midtown Manhattan, Brooklyn, Downtown — as they would have appeared 75 years ago.
The most complex shots involved Florence's performance at the Carnegie Hall. The hall is rarely empty and certainly not an option for principle photography, so creative thinking by Union was required.
Some of the Union team travelled to New York as a separate unit to take advantage of our limited access to the hall itself and photo scan it. The team back in London were then able to recreate it on top of plate photography captured in the Hammersmith Apollo, London.
While a great theatre, the Apollo was designed by Robert Cromie in the Art Deco style of the 1930s and is not a good double for the famous Carnegie Hall so everything inside had to be added digitally. Carnegie Hall has 3,671 seats, divided among its three auditoriums and Union created a CGI model, which was then textured with around 1,000 stills taken during a visit to the venue itself.
This allowed the team to light the hall to match the live-action photography and then populate the model with concert-goers shot on a blue-screen stage at Elstree Studio in which a100-strong crowd was shot in every conceivable configuration and from every possible angle.
Meticulously planned camera set-ups were required to ensure that 100 supporting artists could be multiplied using 3D animation and modelling software into a crowd large enough to fill the iconic hall.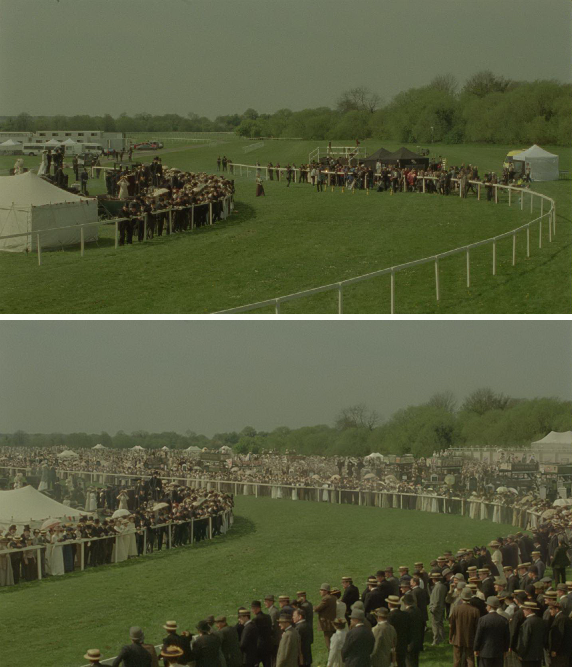 Above: Suffragette
You have seemed to become a company known for 'British' films - was that a conscious decision or just the result of who you haved worked with?
We have worked hard to build relationships with some amazing British filmmakers who are great collaborators. They are creatively drawn to different types of projects and are taking us on those journeys with them.
At the end of the day we just like like being part of telling great stories and are very open to doing that with anyone.
What's next on the horizon for Union?
We're expanding all the time and working on some projects that might surprise people.
We work with Netflix, were one of the vendors on Everest and have some exciting projects in the pipeline including a large TV sci-fi project for Amazon that is supporting the development of our 3D capabilities. We're also in the middle of work on Trainspotting 2, which releases in January and it's really exciting the team right now.
We've just taken on an additional space, increased our roster of supervisors and are actively recruiting for artists.
If you fancy joining the team contact recruit@unionvfx.com.
Image credits:
Tim Caplan - Co-Founder and VFX Producer at Union
Florence Foster Jenkins © BBC Films/Pathé UK
Suffragette © 2015 Focus Features
More on Union VFX