Deluxe Entertainment Services Group (Deluxe) announced it has bolstered its EMEA business with the appointment of two senior executives to the Distribution leadership team.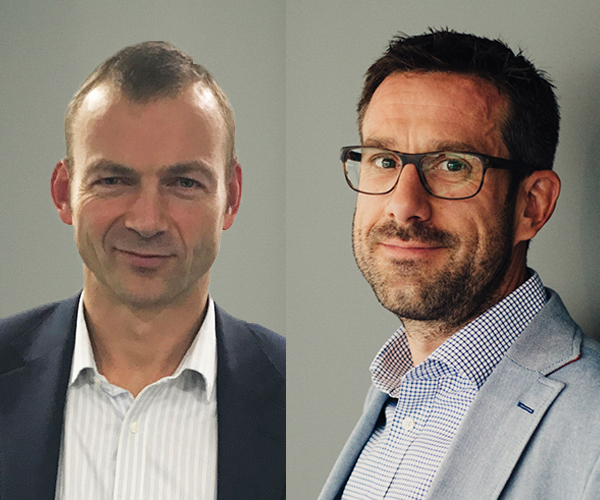 Above (L-R): Andrew Bell and George Eyles
Andrew Bell, former Executive Vice President for Global Operations for BBC Worldwide, joins Deluxe as SVP, Operations and Technology, EMEA. George Eyles, who has until now held the position of Managing Director of the company's Digital Cinema division, sees his role expanded to SVP, Commercial and Business Development, Worldwide.
Bell, who has worked with Deluxe in previous roles both at the BBC and Encompass, has been brought on to deliver operational leadership solutions across EMEA and will be responsible for all operational activities in the region across delivery, localization and digital cinema.
Eyles will lead sales and business development worldwide for Deluxe Distribution, including bringing together all of the company's distribution-specific product resources, sales and support teams and business development functions into one group. Eyles will remain involved as the digital cinema subject matter expert in EMEA, allowing him to continue to support this key service.
Bell and Eyles will report to Walter Schonfeld, Worldwide President of Deluxe Distribution.
"Our clients have been clear that they want to engage Deluxe in delivering their complete end-to-end distribution solutions. Andrew will lead a team laser-focused on developing sophisticated operational solutions that continue to build on the high-performance culture demanded by our clients," Schonfeld said.
"George's extensive industry experience and his success with our digital cinema business over the past few years places him in a unique position to help drive growth worldwide as Deluxe unifies its Distribution businesses – delivery, localization and digital cinema."
Bell commented: "I've had a long-standing relationship with Deluxe and for a number of years I observed its trajectory as the industry leader in entertainment and media technology. I am delighted to be a part of the team at a time when it is so strongly positioned for development, innovation and growth."
Eyles commented: "I'm excited to be taking on the integration of our global commercial teams at such a pivotal point in Deluxe's history and that of our industry. This will drive value for our clients, not just by offering a simplified solution, but by making it easier for them to grow their businesses and make them more efficient. Enabling our clients to share their stories with the world, on every screen, will be the key to our success. As the company aligns and focuses on continuing to better serve our clients, we will also be simplifying our value chain – this will enable us to realize the true potential of operating in a global digital environment by offering improved automation, integration and management."