Among the winners were Turtle Journey by Aardman Animation (in collaboration with Greenpeace), and The Tiger Who Came to Tea produced by Lupus Films.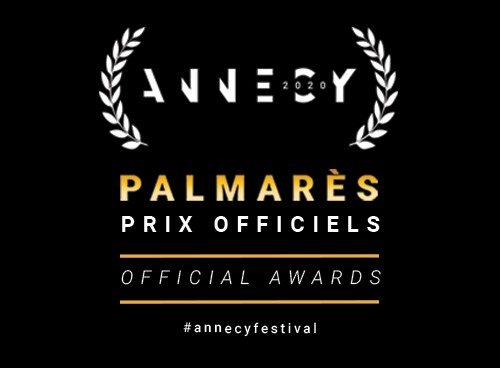 Over the weekend, Annecy International Animation Festival announced this year's winners and Jury selection online. Despite the disruption of the global COVID-19 pandemic, the program is being held online this year, running from the 15th – 30th of June at Annecy.org.
Top prizes this year went to Rémi Chayé's for the 2D-animated feature Calamity, a Childhood of Martha Jane Cannary and Theodore Ushev's animated short The Physics of Sorrow.
View the complete list of 2020 winners below:
FEATURE FILMS
Crystal for a Feature Film
Calamity, a Childhood of Martha Jane Cannary
Rémi Chayé
(France, Denmark; Maybe Movies, Norlum)
Jury Award
The Nose or the Conspiracy of Mavericks
Audrey Khrzhanovsky
(Russia, School-Studio Shar)
Jury Distinction
Kill It and Leave This Town
Mariusz Wilczynski
(Poland; Bomobnierka, Extreme Options, Iam-Adam Mickiewicz Institute, EC1 Lodz City of Culture, Letko, DI Factory, Gigant Films, Polish Film Institute)
Contrechamp Award
My Favorite War
IlzeBurkovskaJocobsen
(Latvia/Norway: Bivrost film & TV, Ego Media)
Contrechamp Jury Distinction
The Shaman Sorceress
Jae-huunAhn
(South Korea, Meditation with a Pencil)
SHORT FILMS
Cristal for a Short Film
The Physics of Sorrow
Theodore Ushev
(Canada, National Film Board of Canada)
Jury Award
Homeless Home
Alberto Vazques
France, Spain; Autour de Minuit, UnikoEstudioCreativo
Jean-Luc Xiberras Award for a First Film
The Town
Yifan Bao
China, ARC Anime Studio
Jury Distinction
Freeze Frame
SoetkinVerstegen
Belgium, Akademie Schloss Solitude
Jury Distintion
Genius Loci
Adrien Merigeau
(France, Kazak Productions, Folimage)
Off-Limits Award
Serial Parallels
Max Hattler
(Germany, Hong Kong: Relentless Melt)
TV AND COMMISSIONED FILMS
Cristal for a TV Production
Shooom's Odyssey
Julien Bisaro
(Belgium, France: Picolo Pictures)
Jury Award for TV Series
Undone
Hisko Hulsing
(U.S.; Amazon Prime Video, Torante Productions, Submarine)
Jury Award for a TV Special
The Tiger Who Came to Tea
Robin Shaw (U.K., Lupus Films)
COMMISSIONED FILMS
Cristal for a Commissioned Film
Lucky Chops "Traveler"
Daniel Almagor, Raman Djafari
Germany, Studio Vogel
Jury Award
Greenpeace "Turtle Journey"
Gavin Strange
(U.K. Aardman Animations)
GRADUATION FILMS
Cristal for a Graduation Film
Naked
Kirill Khachaturov
(Russia, Moscow School of New Cinema)
Jury Award
Pile
Toby Auberg
(U.K., Royal College of Art)
Jury Distinction
Sura
Hae-Ji Jeong
(South Korea, Korean National University of Arts, Knuadis K'Arts)
VR WORKS
Cristal for the Best VR Work
Minimum Mass
Raqi Syed, Areito Echevarria
(France, New Zealand; Like Amber, Floreal Films)
Jury Special Distinction
Battlescar – Punk Was Invented by Girls
Martin Allais, Nicolas Casavecchia
(USA, France; Atlas, Albyon, 1st Ave. Machine, Ryot, Arte France)
The Awards ceremony is available to re-watch on the Annecy YouTube channel here.
Many of the award-winning projects are also available to view on the Annecy Festival platform online.annecy.org until Tuesday the 30th of June.