Partnered with Illuminatrix, Women Behind The Camera, IMAGO, The British Blacklist and BECTU, the Digital Orchard New Talent Bar will be collectively brought to the 2020 BSC Expo.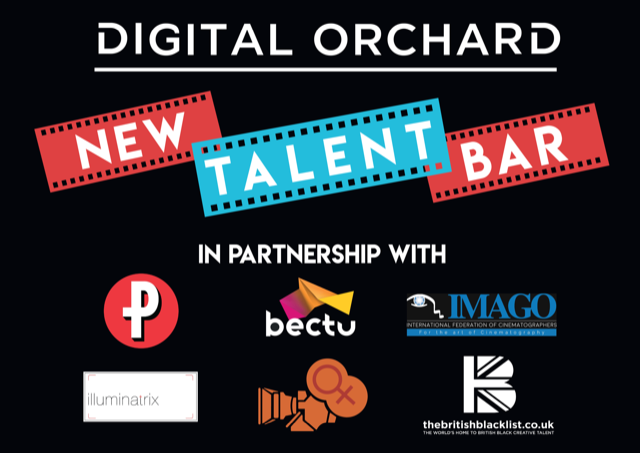 The BSC Expo 2020 returns to Battersea Evolution, Battersea London from Friday 31st January to Saturday 1st February 2020. This year Digital Orchard and a host of partners are bringing to the show the New Talent Bar to support progression and diversity in the industry.
The Digital Orchard New Talent Bar is designed to help those most underrepresented in the industry to make waves and move forward, as well as to help all new filmmakers to make the best use of their time at the BSC Expo when on site.
Designed with partners – illuminatrix, Primetime, Women Behind The Camera, IMAGO, The British Blacklist and BECTU – The Digital Orchard New Talent Bar is a place for anyone who is new to the industry or is an experienced professional seeking support to progress. The bar is open to all, allowing new talent and established film makers to mix and support one another.
Change requires awareness, and so the New Talent Bar will also host the Unconscious Bias Challenge – a chance to interrogate blind spots and how to overcome them.
The New Talent Bar (set up on the Mezzanine level in the main exhibition hall at Battersea Evolution) will also play host to BECTU and Primetime's collaborative careers advice sessions. Recognising the very poor representation of both groups in the camera department, BECTU and Primetime are inviting BAME and women camera professionals to apply for 1-2-1 meetings with a line-up of established DoPs and others with hiring power. 1-2-1 meetings will be provided by Nicola Daley, Matt Windon and Adam Etherington amongst many others.
And if you need any more reason to visit, the New Talent Bar will also be the only place at the BSC Show to get your hands-on Digital Orchard's much coveted Set Stills, 35mm motion picture film for your stills camera.
"We're honoured to be working with such great partners as we power forward in our mission to support underrepresented groups in the industry and help talent to progress. It's fantastic to start 2020 by bringing the New Talent Bar to the BSC Show; as BSC Patrons we think it's so important to have initiatives like this available to both those starting out and those who have the talent to progress into senior roles but haven't had the opportunity to do so. We're keen to get the message out far and wide to aspiring film makers, those keen to progress to senior roles and secure jobs on major productions, and to experts who want to change the industry for the better; we welcome you to get in touch if you would like to take part."

Sam Margaritis, Managing Director of Digital Orchard
The New Talent Bar will run throughout the BSC Expo on Friday 31st January and Saturday 1st February.
Press is invited to join a photo call and drinks reception to open the bar, meet the partners and officially launch Primetime Pledges at 5.30pm on Thursday 30th January. Please RSVP to kate@digitalorchardgroup.com.
Visit Digital Orchard's website: digitalorchardgroup.com