Technicolor's MPC provides fierce competition in their visual effects offerings for the VFX Academy Award nominations in The Lion King and 1917.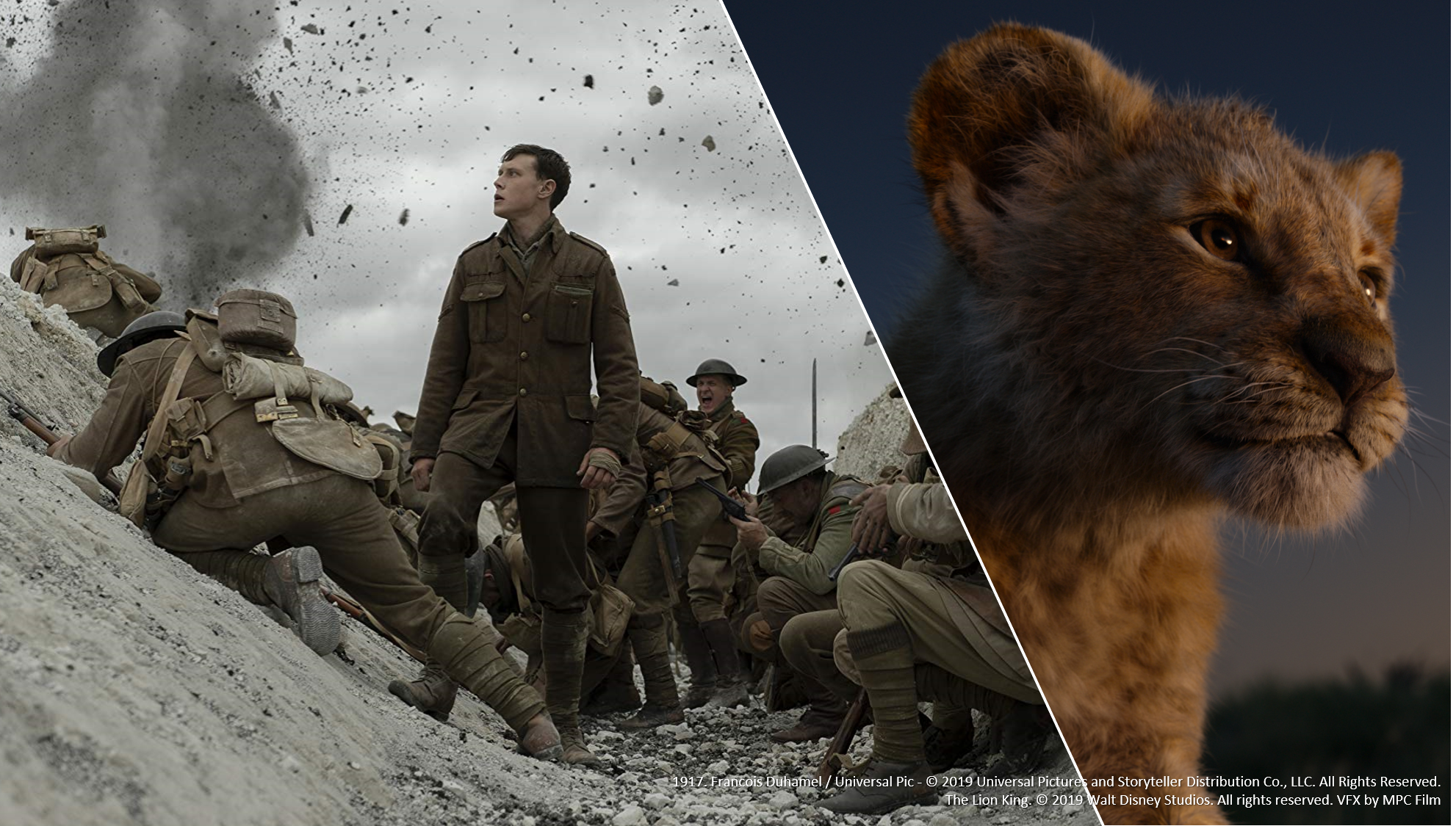 Director Jon Favreau's and Walt Disney Pictures' production of The Lion King was the second highest-grossing film of 2019 with over $1.6 billion in theatrical sales. The announcement this week from the Academy of Motion Picture Arts and Sciences follows nominations for the film's visual effects from the British Academy of Film and Television Arts (BAFTA) as well as the Visual Effects Society (VES). The VES nominated The Lion King for five awards – the leading recipient of all theatrical features released in 2019.
Director Sam Mendes' 1917 was also nominated by the Academy, BAFTA and VES for its visual effects – along with other nominations from the Academy and BAFTA including Best Picture, Best Director, and for its Achievement in Cinematography. Mendes and the film recently received Golden Globe Awards as Best Motion Picture – Drama, and Best Director – Motion Picture.
The Lion King was imbued (by Mr. Favreau and his team) with a live-action aesthetic that featured animated yet photo-real performances of the beloved Disney creature-characters played against remarkably diverse African locations and environments – nearly 1,600 shots in all fashioned by MPC's artists employing the company's bespoke virtual production pipeline. The Lion King followed Favreau's earlier smash-hit The Jungle Book – that garnered Oscars for the film's VFX Supervisors Rob Legato, ASC, and MPC's Adam Valdez, along with Animation Supervisor Andrew Jones. MPC's co-VFX Supervisor Elliott Newman joined Legato, Valdez, and Jones with a nomination for The Lion King – his first.
1917 (produced by Amblin Partners, for Universal Pictures) was released on Christmas Day, to rave reviews for the film's stunning visual presentation. The visual effects produced by MPC Film fostered the film's 'single-shot' presentation captured by cinematographer Roger Deakins, ASC, BSC, and the production. MPC's Guillaume Rocheron and Greg Butler led visual effects teams in Montreal and London. Rocheron was the recipient of an Oscar for his VFX work on director Ang Lee's The Life of Pi. Butler was the recipient of a BAFTA Award for his work on Harry Potter and the Deathly Hallows: Part 2.
"We're so proud of our teams at MPC Film that continue to produce such stunning results for our theatrical clients. MPC's work on The Lion King was nothing short of breathtaking. The film set an industry standard for virtual production methodologies, animation and artistry alike. The work performed for 1917 couldn't be more different in nature but was crucial to Sam Mendes in creating the illusion of one continuous shot across the World War One battlefield he so wonderfully presented."

Tim Sarnoff, Technicolor President of Production Services
Both films showcase the remarkable creative range of MPC Film talent, artistry and innovative techniques including: its industry-leading 'virtual production' pipeline and methodology; character-creature animation; and photo-realism of the highest order.
1917 was the fourth film served by MPC and Technicolor to employ a blending or "stitching" visual effect technique to foster the illusion of a single continuous "take" or extended sequence. The development of that process began on director Alejandro G. Iñárritu's Oscar-winning Birdman or (The Unexpected Virtue of Ignorance) and celebrated Oscar award-winner The Revenant, and was later refined for director Alfonso Cuarón Oscar-winner, Roma. The recently announced nominations follow an earlier win for The Lion King's VFX at the 2019 Hollywood Production Alliance Awards in November. Other accolades accorded The Lion King artists include the 2020 Variety-Santa Barbara International Film Festival's "Artisan Award" to be presented to MPC Film VFX Supervisor Adam Valdez.