In a post-lockdown film & TV world, UK Screen Alliance brings together a number of industry experts, from across post-production, VFX and animation, to discuss whether runners an outdated position to recruit.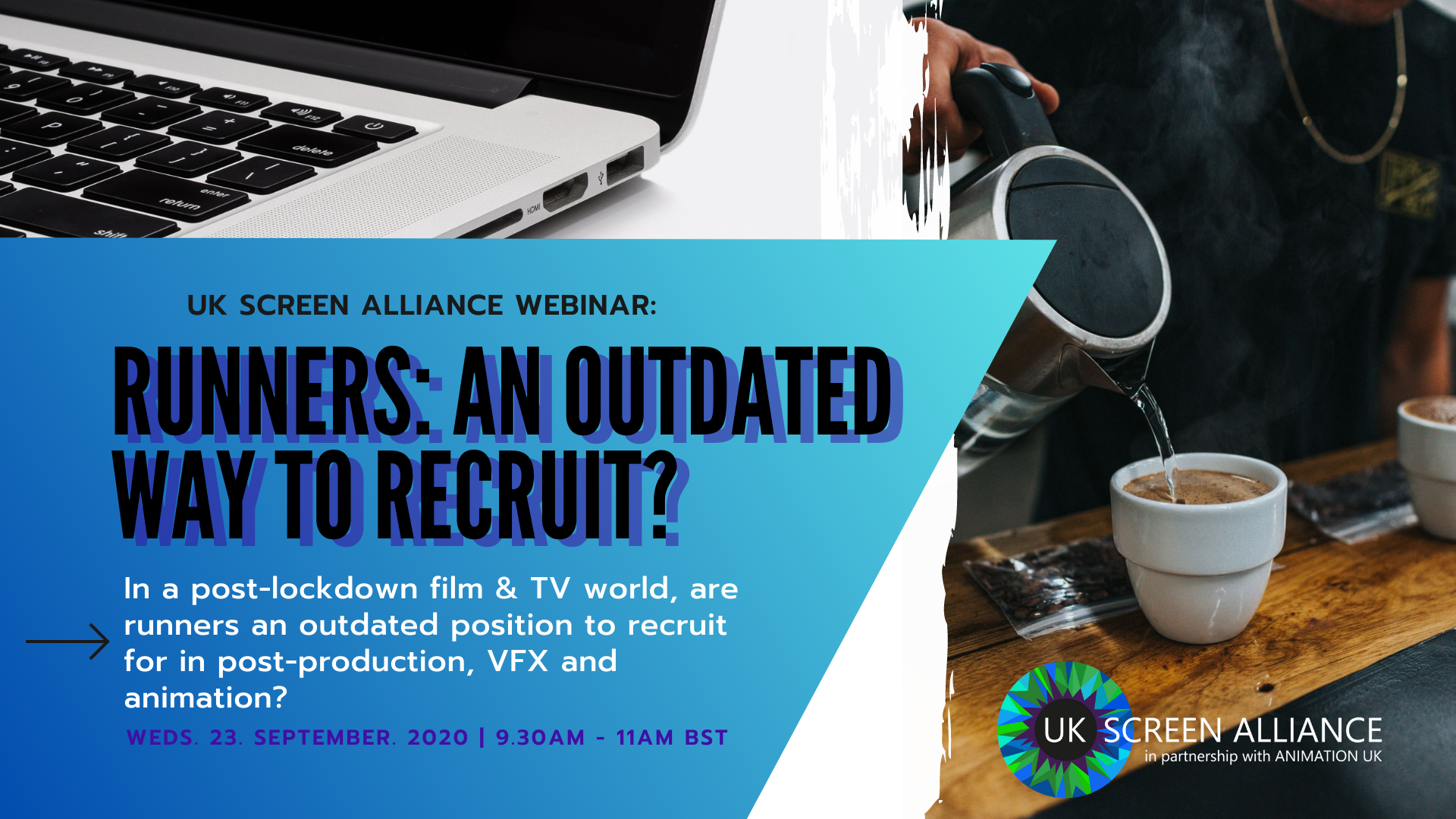 On Wednesday the 23rd of September UK Screen Alliance held the first in a series of online events, a webinar entitled: 'Runners: and outdated way to recruit?'.
The aim of the session was to question whether 'runner' systems/schemes are becoming increasingly outdated, in post-production, visual effects, and animation, and if, as an industry, we can find a better way of recruiting and training our future workforce.
Watch the webinar below:
The wide-reaching impact of the coronavirus pandemic and lock-down has forced every part of the screen industry to adapt and re-assess the way things work, for clients, employers, and employees alike. Many aspects will likely never be the same again. Post-production companies have been forced to downsize to reduce costs and to postpone recruitment. A blended model with people continuing to work from home alongside fewer on-premises sessions may be the future, but what will be the impact on entry-level jobs and the runner role in particular?
The panel was presented by Tanya Rai, Freelancer, Podcaster, and Diversity, Events & Marketing in Broadcast specialist.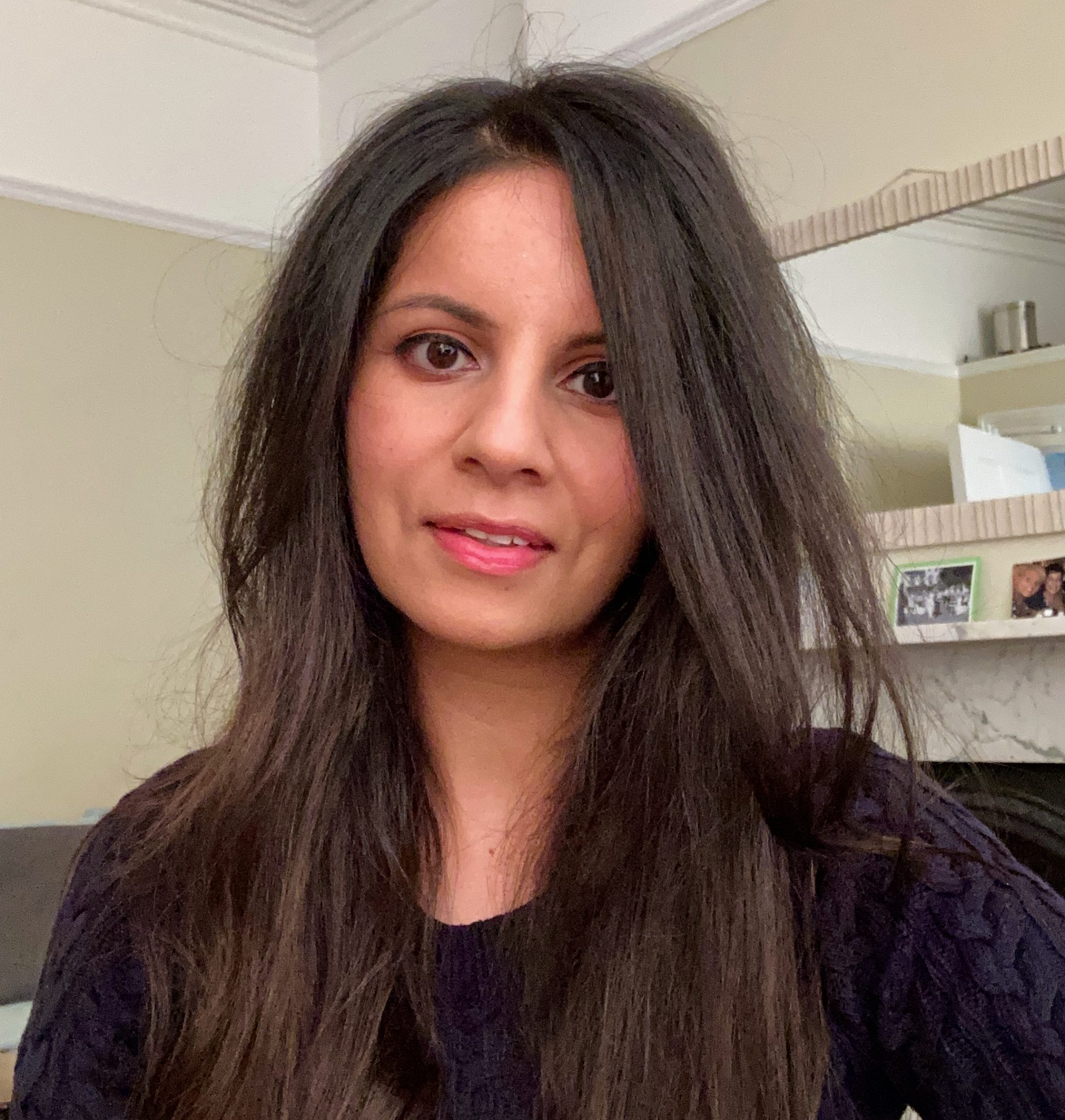 Tanya has worked in the broadcast and entertainment industry for over 12 years with a range of experience in events, marketing, project/account management and advocating diversity. She has worked with the BBC, Cheltenham Literature and Jazz Festivals, International Broadcasting Convention, and Sundog Media Toolkit. Tanya is a board member of Rise – an award winning not for profit organisation for gender diversity in the broadcast technology sector.
The Panel
The panel for the online event brought together a number of industry experts, from across post-production, VFX and animation, to discuss and debate the subject. Featuring:
Phil Attfield, VFX & Animation Partnership Director, NextGen Skills Academy. Phil is a Visual Effects industry professional with more than 20 years' experience in VFX as an artist, supervisor, producer, proprietor, educator, and mentor. At industry-led education initiative NextGen Skills Academy, Phil helps to develop apprenticeships, new entry-level qualifications, short courses and online learning opportunities for the next generation of talent for the Games, Animation and VFX industries. NextGen is supported by a range of stakeholders including BFI, Creative England, ScreenSkills, TIGA and UKIE.
Rowan Bray, Managing Director of Clear Cut Pictures. Rowan has an extensive history of working in a number of post-production facilities, joining Clear Cut in 2017. An ardent supporter of strengthening skills in the UK VFX and post industry, Rowan is chair of the trailblazer group which created the Post Production Technical Operator apprenticeship, developed in conjunction with a group of employers including Technicolor, MPC, Fifty Fifty Post, Molinare, Company 3, Encore, Run VT, Edit Store, Platform and Pinewood.
Gareth Ellis-Unwin Head of Film & Animation at ScreenSkills. Gareth is Head of Film and Animation at ScreenSkills, the industry-led skills body which works across the UK to help grow and sustain a skilled and inclusive workforce. An Academy and BAFTA award-winning producer, at ScreenSkills Gareth leads on the delivery of the BFI's Future Film Skills programme and sets the overall strategic direction for the Film Skills Fund, which invests industry contributions.
Harriet Edge-Partington, Talent & Recruitment Manager, Union VFX. Harriet joined Union as Talent and Recruitment Manager in 2019 where her ability to uncover multi-talented recruits who are also a great fit quickly earned her a change of title internally to 'Head of Unicorn Discovery'. Harriet, who holds a photography degree from the University of Gloucestershire, began her VFX career at DNEG in 2013 as Recruitment Administrator, supporting the wider recruitment team day to day. From there she progressed to interviewing artists, recruiting and retaining 3D talent holding roles as Talent Acquisition Partnering in both the Film and Feature Animation divisions. During her six years at DNEG, she was heavily involved with the creation, development and running of the annual Greenlight Scheme under which DNEG offer graduate programmes and summer internships. Her passion for encouraging diversity and inclusion resulted in an invitation to become a founding Non-Executive Director of ACCESS:VFX – a role she has maintained since joining Union. She is also one of Union's Mental Health Champions.
Natascha Cadle, Creative Director, ENVY Post Production. Natascha is Creative Director and Co-Founder of ENVY Post Production, which opened its doors in 2006 and has 6 buildings in Central London working on Broadcast and Advertising with shows like Top Gear, Gogglebox and The Voice and working with brands like Adidas, Aston Martin and Nike to name but a few. Natascha began her career working as a runner and worked her way up working for Channels like Showtime, Channel4 and ITV and eventually becoming a Creative Director for a Sony and Disney Channel before helping to create the ENVY brand. In 2008 Natascha created the ENVY Academy which is a specialist training programme for new talent and an information source for university students. Natascha recently got recognised for her achievements by winning the RISE Business Award which celebrates talent, skills and expertise of exceptional women across the broadcast technology and services sectors and received an outstanding contribution award at Promax UK which is the leading voice of British Television Marketing and Creativity plus Natascha featured in the WFTV (Women in Film and TV) top 100 list.
Dr. Edward McCaffrey, Senior Lecturer in BA Film (Production) at Middlesex University. Eddie is a Senior Lecturer on the highly successful BA Film (production) programme at Middlesex University. Part of his role as an academic, is to help bridge the knowledge gap between HE academia and the film/tv industry. In 2018, he undertook a 'Listening Tour' of VFX/Animation companies, in London, around graduate employability and recruitment practices. Since then, Eddie has been working with many organisations in the Film/TV industries, along with dozens of universities, throughout the UK, focusing on the numerous barriers to entry level talent. Over the summer, Eddie has been leading a joint academic/industry initiative to produce guidelines for student Film/TV productions under Covid-19 conditions. Aimed at all relevant UK FE/HE institutions, it is hoped these guidelines will be released in early October. Eddie is also an award-winning Producer/Director and founder of his own production company.
The discussion was introduced and summarized by Neil Hatton, CEO, UK Screen Alliance.
A video of the discussion was also be recorded and has been made available to view on our website incoming weeks.