Building on the success of the pilot training initiative TRC, supported by Screen Scotland via the recently established BFI National Lottery Skills Cluster Fund, has announced that applications are open for the 2023 edition of Reset.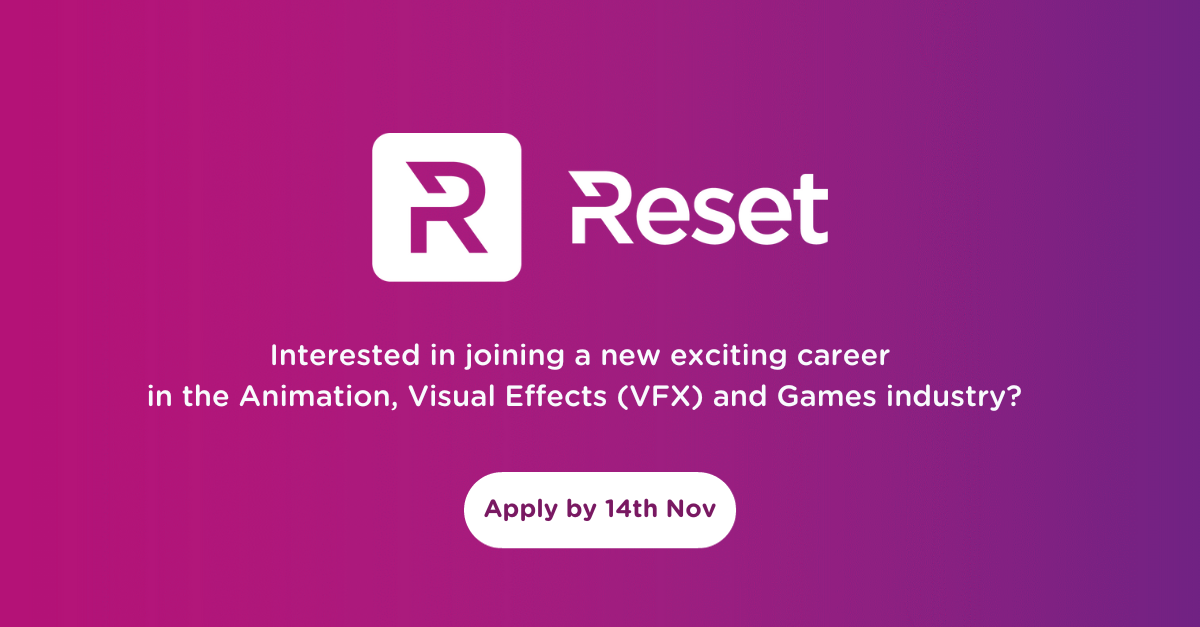 The Reset traineeship is aimed at people from all walks of life who are keen to transfer their skills, experience and knowledge to a new industry, and establish a future career in the animation, VFX and games sectors.
Reset trainees will learn from the best with award-winning animation, VFX and games studios across Scotland taking part. Previous host companies include Wild Child Animation in Stirling, Interference Pattern in Edinburgh and Blazing Griffin, ISO FX and Revenant in Glasgow.
The first iteration of the programme, which focused on retraining those who had been affected by the pandemic and EU exit, was a great success with most trainees securing further work in their new careers on completion.
Having completed the 2022 programme, trainee Samantha Medlam, who started her journey on Reset with Wild Child Animation and is now a Layout Artist for Jellyfish Pictures.
I've said it before and I'll say it again, Reset changed my life. Reset gave me space to learn whilst in a working environment and whilst being paid – it was a dream come true! And alongside getting experience in the actual industry, and with other people, we had many training days that were all aimed at our success – we were being cheered on by everyone, and it was amazing!

Samantha Medlam, Layout Artist at Jellyfish Pictures
Reset is an exciting, inclusive and immediate opportunity for talented individuals with excellent transferrable skills and experience to join Scotland's animation, VFX and games industries. We are delighted to announce the return of this programme following a successful pilot, and we look forward to continuing supporting new entrants to the sector.

Claire Scally, Managing Director of TRC
Over the last five years Screen Scotland has invested record levels of funding into on-the-job skills development and training, a core element of our strategy to position Scotland as one of the best places to start and develop a career in film and television. The success of the Reset pilot was acknowledged by BFI and this new 2023 edition is supported by both the BFI and Screen Scotland as part of the BFI's Skills Cluster for Scotland, delivered by Screen Scotland. It's fantastic that VFX and animation in Scotland now has a dedicated training programme to support the continued growth of this sector.

Steven Little, Head of Production at Screen Scotland
Key Dates and Criteria
There is no upper age limit for Reset (applicants must be over 18) and previous experience is not essential. However, to be eligible applicants must:
Have a demonstrable interest in the Animation, VFX and Games industries.
Be passionate, motivated and keen to learn new skills.
Be able to participate in and commit to this development training programme for eight months from February to October 2024.
The roles available on the programme include Junior Artist / Animation Assistant, UI and Motion Graphic Artist/Designer, Production Assistant / Operations Assistant, CG Assistant, and Junior Producer.
Applications are now open and will close on Tuesday, 14 November 2023. See more details and apply here.