Vine FX are delighted to announce their expansion into a new 2,000 sq ft VFX studio, doubling their capacity to 30 artists. The only VFX house in Cambridge working in TV and film, Vine FX has proven that there is a lot more to the UK VFX industry than the facilities in Soho – traditionally the home of high end post production.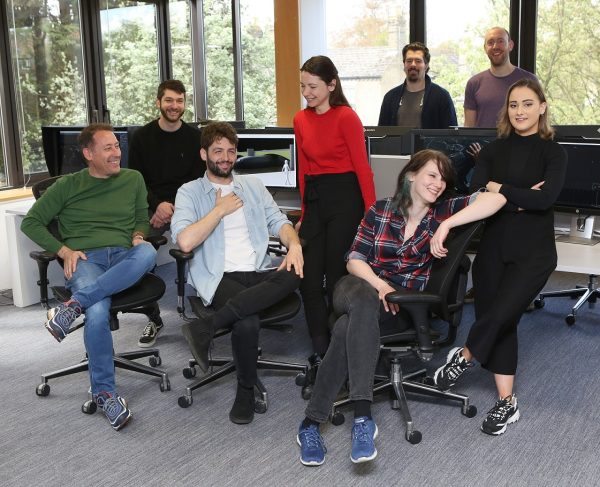 Vine FX was launched 12 years ago by VFX Supervisor Michael Illingworth, starting life in Soho before relocating to Michael's home town of Cambridge in 2016. The move being made possible with technological advances like faster broadband and improved remote viewing tools.
Talking of the ease of moving his business out of London, Illingworth commented:
"Clients are now very comfortable with the idea of a facility not being Soho based, instead of endless screenings where the client has to be present, they can now give feedback remotely, it's far more efficient way of working.

There's also the cost benefit, rents in Cambridge are nowhere near
those of London, allowing us the flexibility to pass on these savings to the client so we can offer a more competitive rate."

Michael Illingworth, VFX Supervisor
This expansion follows an incredibly busy year for the company who worked on BBC1's Troy: Fall Of A City, (BAFTA winner for best VFX) and Sky Atlantic's Patrick Melrose, (BAFTA winner for best mini series), as well as ITV's The Widow and Cold War drama, Summer Of Rockets for Little Island Productions that started airing on BBC 1 this week.
Most recently the Vine FX team provided VFX for the soon to be released fifth series of Black Mirror for Netflix – securing their relationship with the company. The team were also sole vendor on ITV's upcoming Beecham House and are currently working on Fox Networks and Canal Plus' adaptation of War Of The Worlds.
A seasoned VFX Supervisor, with an impressive credit list, Illingworth has previously worked at leading facilities including Warner Bros Studios, on shows including, Gladiator, the Harry Potter films, Black Hawk Down, Atlantis, and Fantastic Beasts.
With Illingworth at the helm, Vine FX have a top team on board working together to produce impressive, feature film standard VFX for HETV projects. Head of 3D, Pedrom Dadgostar was already living in Cambridge, so joining Vine FX was made total sense. Talking of the move he said;
"For me, working in Cambridge is nothing short of a delight. to get to the studio here within 20 stress-free minutes and be able to work in such a nice environment makes it a tough place to beat!"

Pedrom Dadgostar, Head of 3D
Head of Production, Laura Usaite is very keen to point out that their culture and working environment are part of their success in recruiting the best artists and commented:
"We have created a company culture that's about fulfilment in both work and life and it's important to get that balance right.

Many VFX professionals can no longer afford to live in London so are renting or buying outside the capital, Vine FX either recruits talent from the local area or takes on staff who live north of London and can easily commute to Cambridge."

Laura Usaite, Head of Production
Vine FX worked closely with Escape Technology to kit out the new facility, investing £150,000 in technology such as superfast fibre connectivity, half a petabyte of storage, and tools like Nuke, Maya, Arnold and Flame.