UK Screen Alliance collects comprehensive data about the VFX workforce in the UK each year with the cooperation of the HR departments of the leading companies. We can therefore achieve a large sample size which gives a highly credible analysis of the composition of the workforce.
The BFI in its Screen Business report of 2018 also made an estimate of the number of people employed directly by VFX and the number of jobs supported by VFX in the wider economy. A bespoke job creation model was developed by Olsberg SPI with data from UK Screen Alliance to extrapolate from the data collected.
The following most recent statistics are drawn from these sources.
---
Number of people employed in VFX:
Direct employment: 8,140 [1] – FTE (Full Time Equivalents)
Total jobs supported by VFX in the complete film & TV value chain including indirect employment in the supply chain, induced jobs by spending of wages and spillover employment from tourism, merchandise and brand value: 17,940 FTE[1]
---
Payroll
Total direct employment costs VFX: £372.3m [1]
52% of VFX employees are basic rate taxpayers [2]
46% of VFX employees are higher rate taxpayers [2] (salary >£44.5k- 2017 tax band)
1% of VFX employees pay additional rate tax [2] (salary >£150k)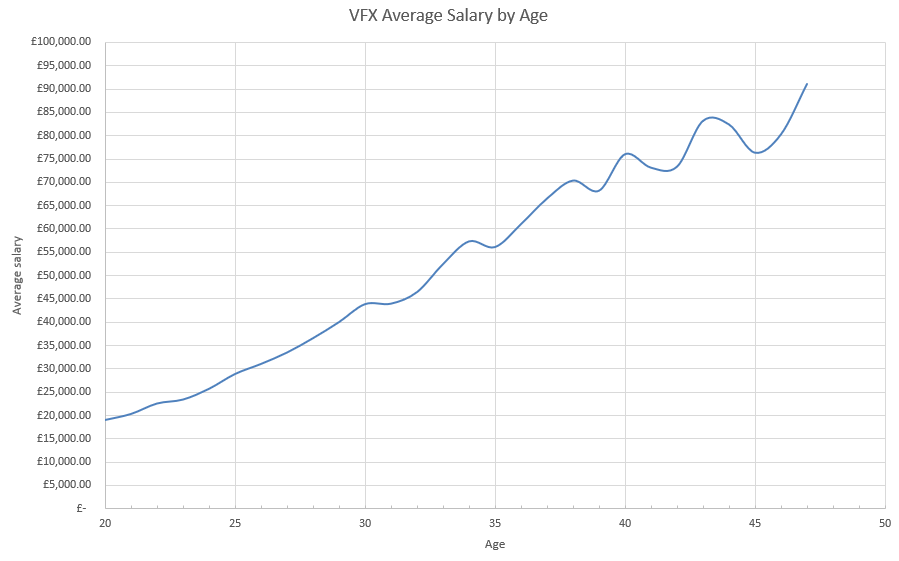 Median age of VFX artists is 31[2]
Median salary of VFX artists is £47,000[2]
Note on the chart above that on average VFX artists hit the £25,000 threshold to be required to pay back UK student loans by age 24 i.e. 3 years after graduation.
Also note that VFX artists earn do not an average of £30,000 until aged 26. This is the proposed minimum salary threshold for UK Skilled Worker Visas and therefore will constrain the recruitment of emerging talent from Europe if the UK government implements this proposal.
However the average pay in VFX at all ages exceeds the overall UK average as well as exceeding the average pay for the creative industries by a good margin.
---
Contract Type
The UK Screen Workforce Survey shows that in contrast to many parts of the film & TV industry, permanent employment is a lot more common with day or week rate freelance contracts being relatively rare. There are also significant differences between VFX for film & TV and VFX for advertising.
| Contract Type | VFX (Film/TV) | VFX (Advertising) |
| --- | --- | --- |
| Permanent | 43% | 85% |
| Fixed term < 6 months | 22% | 6% |
| Fixed term between 6 months and 1year | 16% | 4% |
| Fixed term > 1 year | 16% | 5% |
| Freelance | 2% | – |
| Other | 1% | 1% |
---
Nationality
The VFX industry is highly cosmopolitan with more than 70 nationalities represented.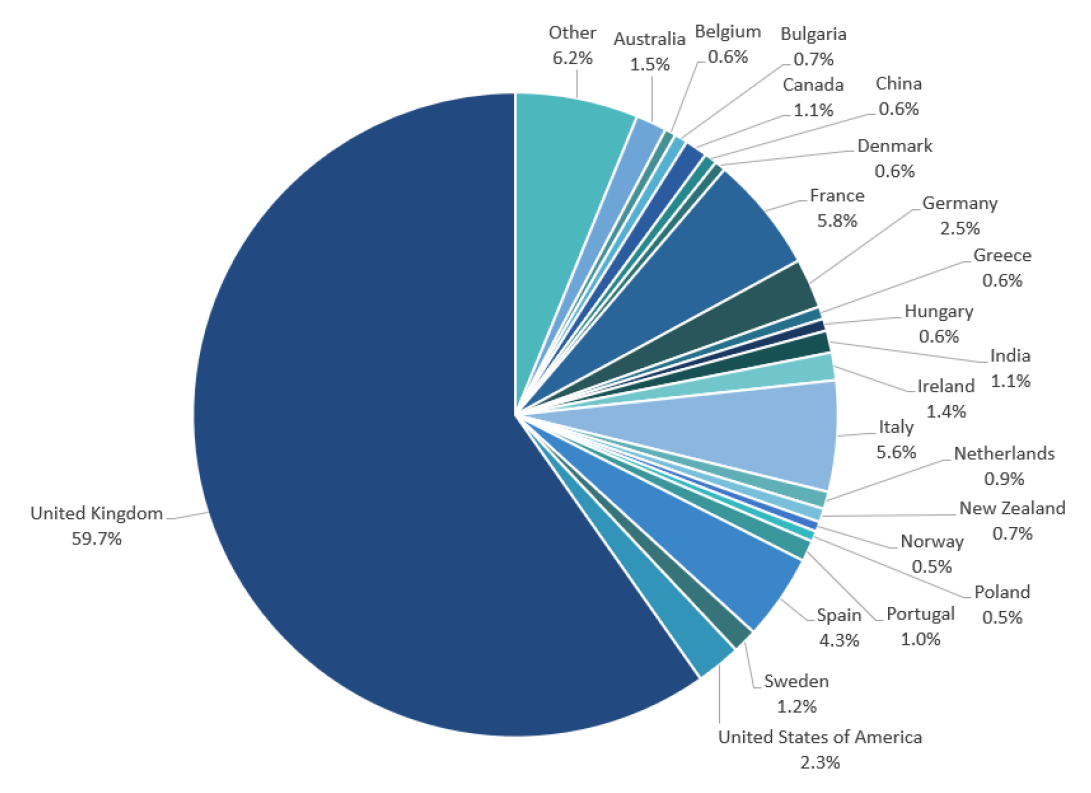 Whilst UK workers make up 60% of the total VFX workforce, the concentration of international workers is greater in the operational workforce (i.e artists, production, R&D and technical support but excluding admin, HR, finance an client services). Without the operational workforce there would be no business.
European workers make up one in three of the operational workforce, so the ending of the free movement of labour as the UK exits the EU, will have an adverse effect as visas are introduced for EU skilled workers. Note that there is also 13% of the workforce from non-EU countries (ROTW = Rest of the World)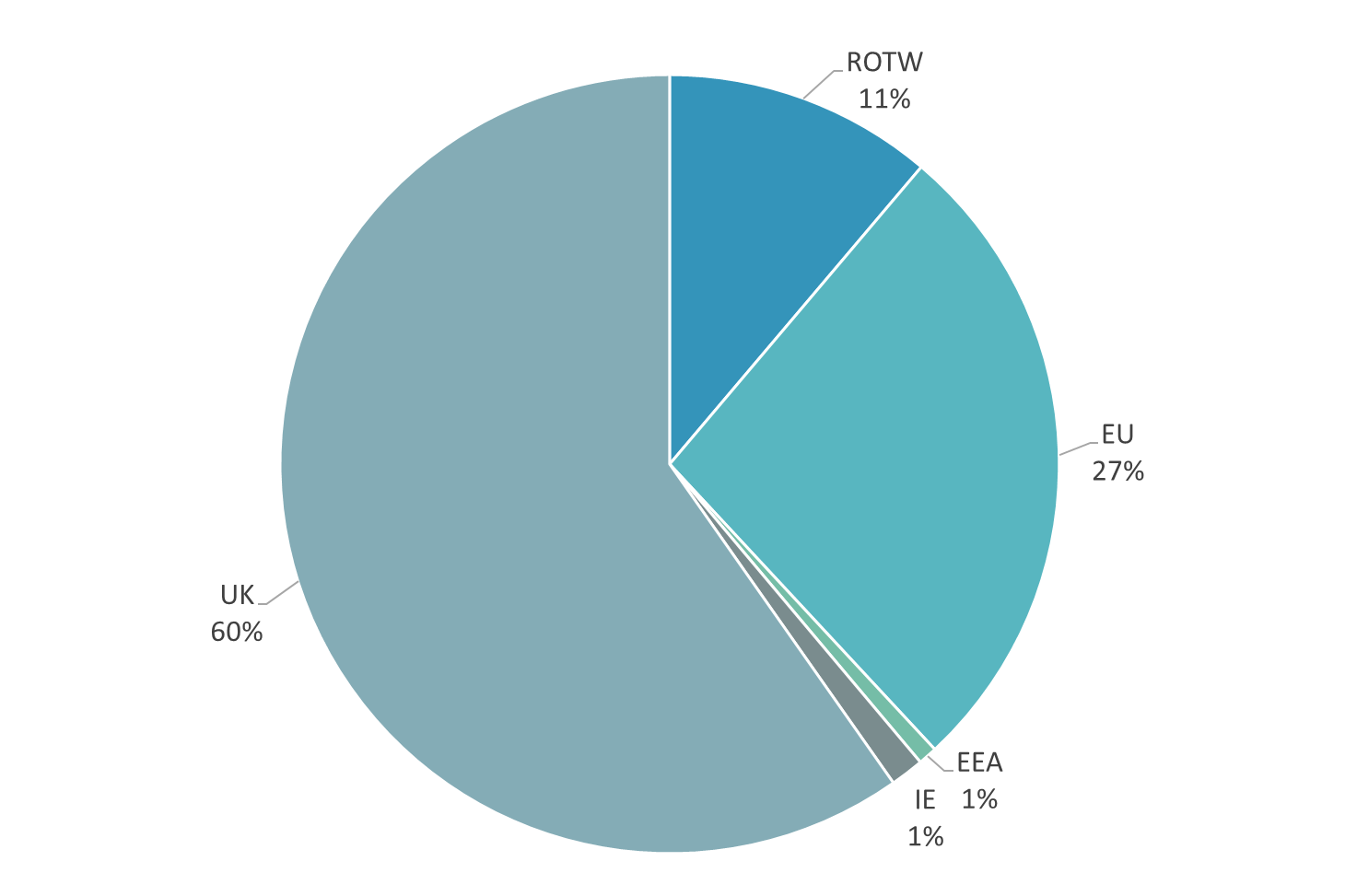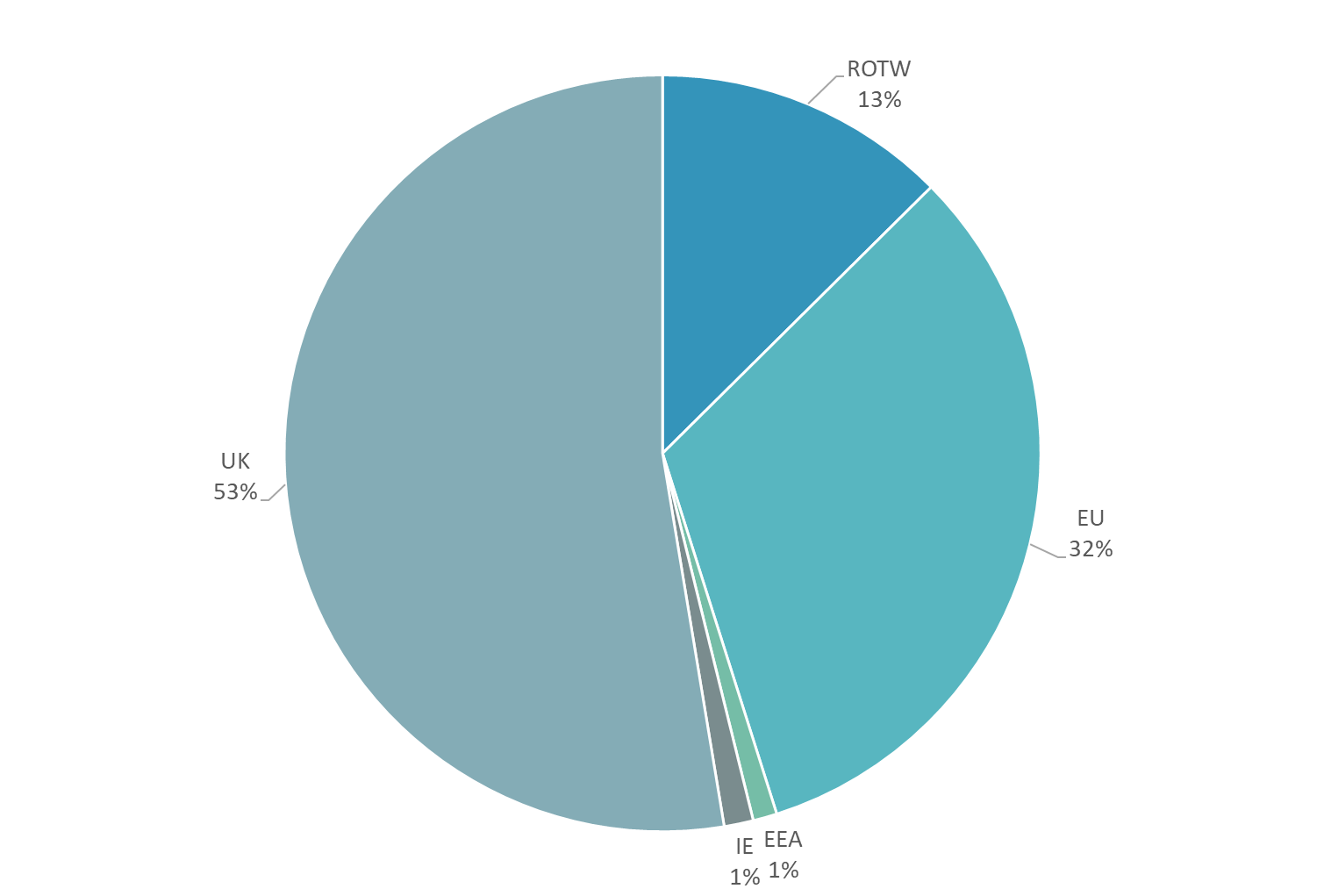 ---
Diversity
Gender
Only 27% of the workforce in VFX are female. There remains much to do in breaking down gender stereotyping to encourage women to study for and apply for the many roles that require technical or coding skills.
There is however an improving picture and evidence in the UK Screen Alliance workforce survey suggest that the gender balance is more even in the younger age group of VFX workers. Therefore if this pattern of recruitment and retention is maintained, over time this will have a beneficial effect on the ratio in the whole workforce as more women progress to senior roles. There is also a need to ensure that women return to the VFX industry if they take time out for the birth of their children, so that their valuable experience is not lost.
These factors will also be fundamental to improving the gender pay gap in the sector, which is between 24% and 33% [7]. There is little evidence of widespread disparity in pay between people of different genders performing the same role with similar levels of experience, however the historical pattern over 20 years of senior managers and artists tending to be male, drives the calculated pay gap upwards which is based on the median salary levels across an entire company. The proportion of women in the top quartile of earners in VFX companies ranges from 11.1% to 16.5% [7].
The gender balance is not the same in all departments. The IT and R&D departments are the most male dominated but the production departments are 60% women[2].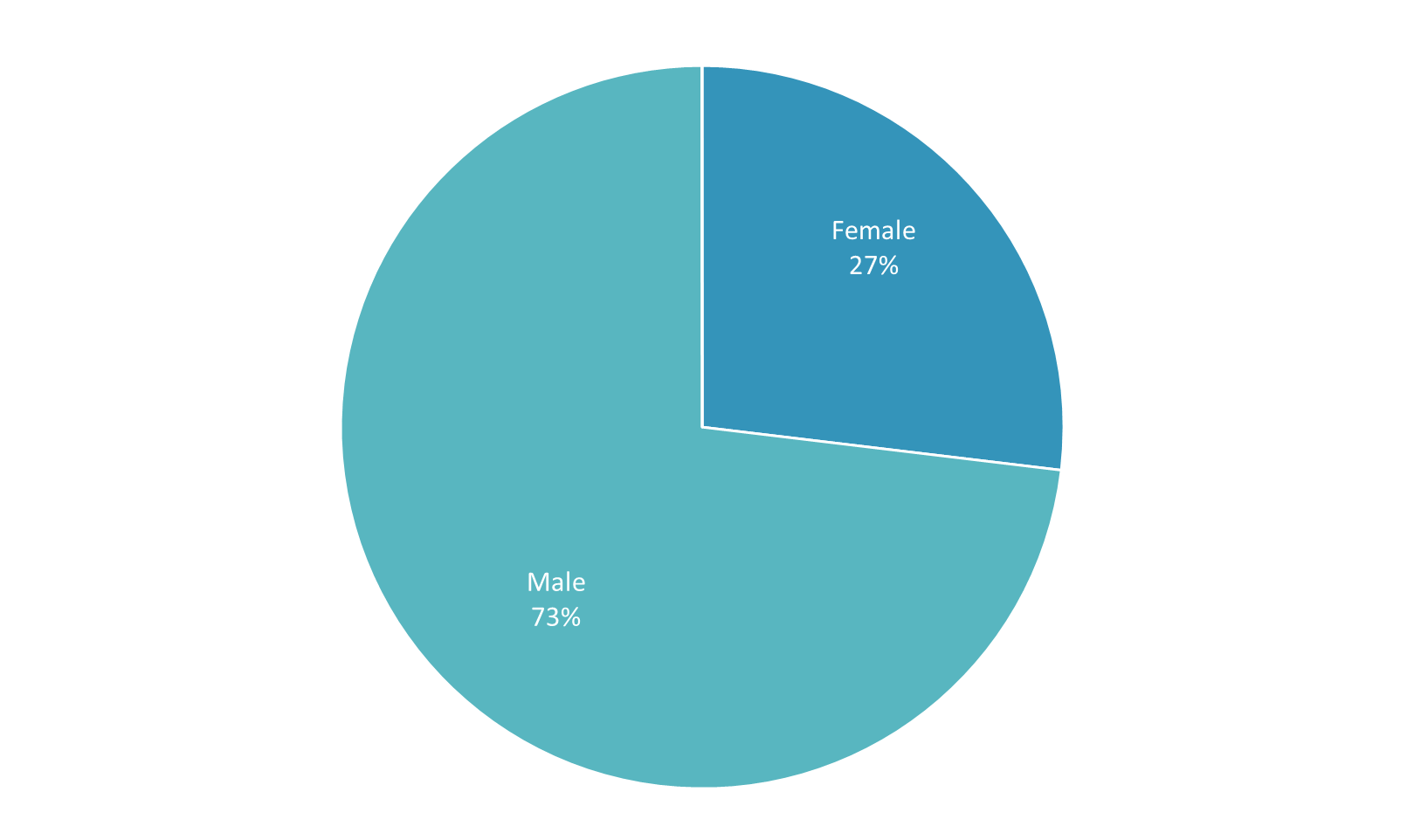 ---
Ethnicity
Many VFX companies do not routinely collate statistics on the racial origins of their workforce. UK Screen Alliance is encouraging them to do so in future so that progress in this important area can be monitored. It may be become mandatory in future if ethnicity pay gap reporting becomes mandatory.
The statistics presented here may not be entirely representative of the whole VFX industry as they come from a limited number of companies and the sample size is smaller than the rest of our survey.
However these results show some encouraging signs in that the proportion of BAME workers in VFX (12%)[3] is greater than the proportion of BAME workers in the film & TV industry in general (3%)[4]. It also compares well to the proportion of BAME citizens in the general UK population (14%)[5], but as these businesses are concentrated in London, we should be looking to reflect the local population, where the BAME proportion is 40%[6].
---
Disability
We do not have figures for the prevalence of disability in VFX. We anticipate that the percentage will not be very high. As an industry that deals with visual images, there can be challenges for people with sensory disabilities in roles that rely on good eyesight with normal colour vision. There are however many other suitable roles. Our sister organisation, Access:VFX strives to break down barriers to inclusion in all its forms, including disability.
On the other hand, we believe that there is a higher than average incidence of neurodiversity in VFX, such as varying degrees of autism. Whilst we have no statistics to confirm this, there is anecdotal evidence. Creativity is often strong in people who think differently and a managed preoccupation for detail can also be an advantage.
---
References:
[1] BFI Screen Business report 2018
[2] UK Screen Alliance workforce survey 2017
[3] UK Screen Alliance workforce survey 2017
[4] A Skills Audit of the UK Film and Screen Industries Report for the British Film Institute by The Work Foundation
[5] Gov.UK ONS statistics – Population of UK
[6] Gov.UK ONS Statistics -Regional ethnic diversity
[7] Gov.uk Gender pay Gap 2018 reported median figures