Over the weekend, the DNEG team were awarded the BAFTA for Special Visual Effects, for their work on Christopher Nolan's 'Tenet'.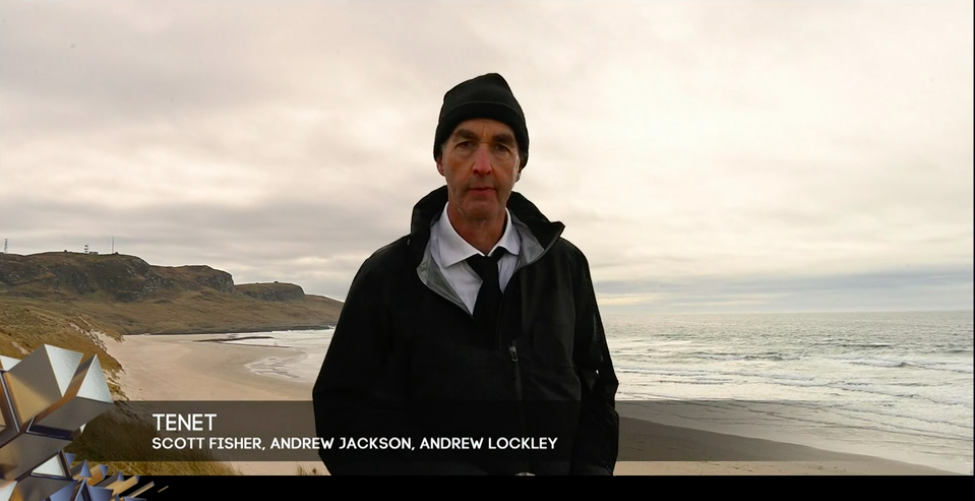 Acclaimed visual effects and animation company DNEG has been honoured with the 'Special Visual Effects' accolade at the 2021 EE British Academy Film Awards for its work on 'Tenet', directed by Christopher Nolan.
DNEG's Visual Effects team, led by Overall VFX Supervisor Andrew Jackson and DNEG VFX Supervisor Andrew Lockley, collaborated closely with Special Effects Supervisor Scott Fisher and the filmmaking team to deliver highly complex sequences designed to support the film's central concept of reverse entropy and time inversion.
"It is an honour to accept this award on behalf of the team. Christopher Nolan had a very clear idea right from the beginning as to what he wanted to do, which required us to work with a combination of practical and visual effects. After early discussions and experimentation, we worked closely with Kip Thorne to ensure that we rooted the shots in science. It was great to have an idea that was based within the realms of theoretical physics rather than fantasy or magic. All the way through, our real focus was on the viewer and creating scenes that capture their imagination while being as authentic as possible. The team worked incredibly hard, and we're delighted to be recognised with this award."

Andrew Jackson, Overall VFX Supervisor
Jackson consulted with world-renowned physicist and Nobel prize winner Kip Thorne, whom the DNEG team had worked alongside previously for Nolan's 'Interstellar', to ensure the design of the effects sequences in the film was grounded in scientific theory. This work guided the team in shooting sequences that depicted the movement of objects through an inverted timeline coexisting alongside the normal timeline of the film – a solution that required an unprecedented level of pre-production VFX input to reduce as much as possible the amount of VFX required in post-production.
"I'm incredibly proud that the work of our global teams has been recognised with this award and I would like to thank Christopher Nolan, Emma Thomas and the team at Warner Bros. for continuing to put their trust in DNEG to deliver exceptional imagery. Despite the challenges of the last year, our talented crews have continued working extremely hard throughout lockdown to deliver an extraordinary body of work, pushing the boundaries of what's possible in visual effects. It is a great honour for the 'Tenet' team to be recognised with a BAFTA, and I congratulate Andrew Jackson, Andrew Lockley, Scott Fisher and all of the talented crews that contributed to this spectacular movie."

Namit Malhotra, DNEG CEO
"This is a fantastic surprise. Thank you to BAFTA and all the members who voted for us. Thank you to everyone at DNEG who worked so hard on the VFX and Scott Fisher and his SPFX crew who all came together to make this possible. It's an honour to accept the award on their behalf."

Andrew Lockley, DNEG VFX Supervisor
This latest win is DNEG's sixth BAFTA Award, following previous 'Special Visual Effects' wins for 'Blade Runner 2049', 'Interstellar', 'Harry Potter and the Deathly Hallows Part 2' and 'Inception', and a BAFTA TV Craft Award for 'Black Mirror – Metalhead'. The company has also previously won five Academy Awards – for 'First Man', 'Blade Runner 2049', 'Ex Machina', 'Interstellar' and 'Inception' – and is nominated for the 'Best Visual Effects' Oscar this year for the team's work on 'Tenet'.
Find out more about DNEG and their work at: dneg.com