DNEG's Academy Award-winning VFX Supervisor Paul Lambert and DNEG DFX Supervisor Tristan Myles accepted the award for 'Best Visual Effects' for their outstanding in-camera FX work on 'First Man', alongside Miniature Effects Supervisor Ian Hunter, and Special Effects Supervisor J.D. Schwalm.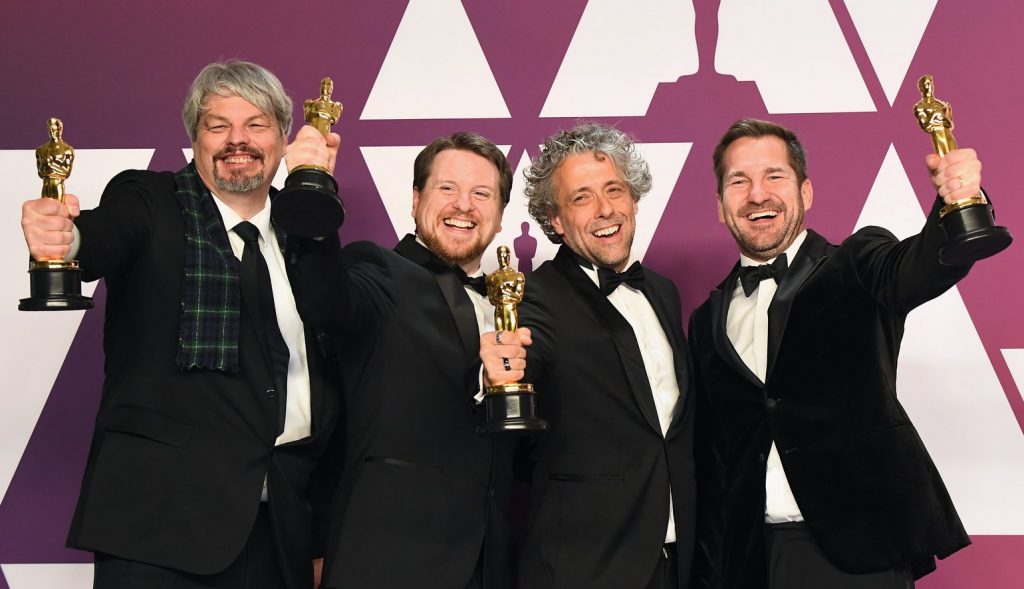 "Such a great honour!"
Speaking about the award, VFX Supervisor Paul Lambert said:
"It's such a great honour to have won this wonderful award. We did things a little bit differently in terms of the visual effects for First Man so being recognised by the Academy is all the more special. It goes without saying that none of this would have been possible without our amazing cast and crew throughout the project – pre-production, the shoot and everybody in post — All of us led by the truly inspirational Damien Chazelle."

Huge thanks to the producers of the movie: Marty Bowen; Wyck Godfrey; Isaac Klausner and Adam Merims; Universal VFX  Heads Jennifer Bell and Bill Tlusty; my VFX Producer Kevin Elam; and a big shout out to Michelle Eisenreich and all my people at DNEG Vancouver. We seem to have done it for the second year running!"

– Paul Lambert
Meanwhile, DFX Supervisor Tristan Myles, said:
"Wow! What an achievement to have won this prestigious award! Special 'Thank You' to the talented VFX team back home in Vancouver, without whose fantastic work this would not have been possible."

– Tristan Myles
Cutting-Edge in-camera techniques
As the lead VFX partner on 'First Man', DNEG delivered around 430 VFX shots under the supervision of Paul Lambert who, as the show's Overall VFX Supervisor, oversaw all the on-set VFX work as well as the whole VFX post-production process.
The team used a unique blend of cutting-edge in-camera techniques. These included special effects, scale models, and never-before-seen footage from NASA's archives to realise this biopic about legendary American astronaut Neil Armstrong.
One of DNEG's VFX team's biggest challenges was to create the most realistic and immersive in-camera FX with the help of the biggest LED screens ever built on a movie set.
"Fantastic for our global teams"
"It's a huge honour for the team's work on First Man to be recognised with an OSCAR. While our primary focus is always on supporting the amazing storytellers we work with through the creation of state-of-the-art effects, it's fantastic for our global teams to be recognised by the industry for their hard work and dedication. We are massively grateful to the director, Damien Chazelle, for having the confidence in our teams and technology to push the boundaries of visual effects."

– Namit Malhotra, DNEG CEO
DNEG is one of the founding VFX members of UK Screen Alliance.