UK Screen Alliance CEO Neil Hatton, spoke at the Westminster Media Forum this week on encouraging the growth of skills, and inclusion of different genders, abilities and backgrounds, behind the camera as well as in front of it, in the screen industries.
Speech delivered at Westminster Media Forum
by Neil Hatton, CEO, UK Screen Alliance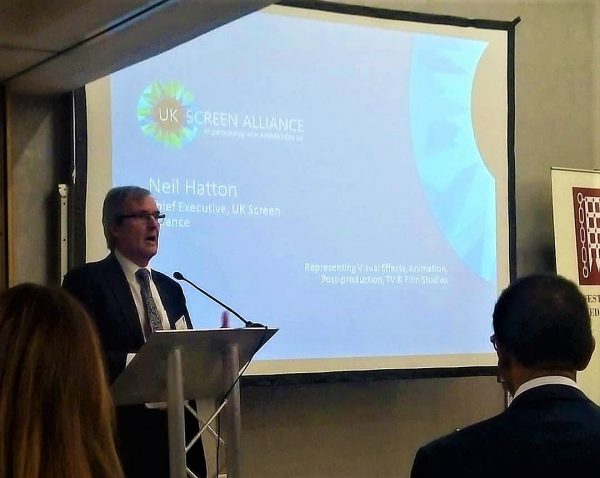 Good morning everybody.
We have already heard, and no doubt will hear more this morning, about diversity initiatives for on-screen representation and above-the-line talent. These campaigns often led by well-known people will always catch the headlines. Of course, it's important to fully represent society in the portrayal of diverse characters and stories, authentically crafted by people from their personal experience, but it would be a mistake in my opinion to frame this debate solely around the high-profile roles of actor, presenter, director, writer, producer, or senior channel executive.
The Work Foundation's 2017 report for the BFI found that within film production, only 3% of employees are from a minority ethnic background, compared to 12.5% nationally. The same report also reported an 80% to 20% gender imbalance.
The Work Foundation report was not about diversity; it was about skills; or more accurately the lack thereof. Thanks to the screen sector tax credits, we have a buoyant and growing industry, where we need many more skilled and talented people, especially behind the camera and in post-production.
We should be exploiting this opportunity to build the next generation of film and TV employees in a fully inclusive way.
We need a bottom-up approach as well tackling this from the top-down. The number of people in senior production or on-screen roles is relatively small, so to really shift those numbers we need to effect a holistic change within all levels and departments of our industry.
My own particular area of responsibility is post-production, visual effects and animation. There's a mixed picture here on diversity.
Gender diversity in animation appears encouraging, but within post & VFX as there are a lot of technical disciplines, we need to challenge gender stereotyping and other barriers that inhibit women from considering or remaining in these roles.
We have very little granular data about BAME, since many companies don't routinely record the racial backgrounds of their employees, so our sample size is not yet truly representative. We are encouraging employers to update their record-keeping, which they will have to if ethnicity pay-gap reporting becomes mandatory. So, I don't claim these figures are definitive, but in Post and animation it looks like there's a lot of work to do with just 6% of employees being BAME. On the other hand, our figure for VFX looks promising at 15% for BAME representation; in excess on the national average. But before we celebrate progress, let's remember that VFX is heavily concentrated in London, so we ought to be aiming for closer to 40% before we can claim to reflect the local population.
Statistics have their place in diagnosing problems, but we need more than monitoring and analysing to make a difference. We need to think, not about changing the numbers, but about effective strategies that change behaviours. We should not be just be relying on quick high-profile fixes, hoping that they will encourage lasting change. If they are not coupled with initiatives to build a ground-swell of inclusion in our industry, starting not just at the point of recruitment but much earlier by inspiring young people from diverse backgrounds in their teens or perhaps even earlier, then we will not succeed.
Last year at this Forum, I showcased an new industry initiative called Access:VFX, whose remit is to champion inclusion in all its forms in VFX and animation. I spoke of how 18 of the UKs biggest employers in this sector along with several other industry bodies such as Into Film and UK Screen Alliance had come together to tell young people from minority & economically challenged communities about the careers available and the pathways to enter our industry.
Our aim was to find new pools of latent talent that normally don't develop because of a dearth of opportunity or just a lack of awareness that these careers even exist in the UK. We set out to encourage new applicants that are not the stereotypical white, middle-class, young men from the South that normally apply for interview.
This year the movement has really gathered pace, as in October we mounted our largest campaign yet. Access:VFX went on a road-trip round the UK.
19 events in 13 cities across the Nations and Regions from Belfast to Bournemouth; Glasgow to Great Yarmouth; Not just the obvious places. We visited Stoke on Trent, Sunderland, Ipswich and Norwich. We connected with over 3,000 young people and several hundred have since applied for our e-mentoring scheme to maintain that contact as they progress towards a career in our industry.
With virtually no use of public money, we relied on a considerable investment in time and resource from some of the world's largest companies in VFX and animation, like The Mill, Framestore, DNEG, MPC, Jellyfish, BlueZoo and too many more to name check individually.
To top this off we exhibited at WorldSkills UK Live at the NEC in Birmingham; the largest careers fair in the UK, where we welcomed a further 700 young people and their parents to our stand.
In a sign that diversity in the screen industries is not just a UK issue, our colleagues in other VFX hubs like Montréal have decided to follow our lead and open their own chapter of Access:VFX. It will soon be followed by Access:VFX Chicago – and we don't expect it to stop there.
Furthermore, Access:VFX here in the UK has decided to incorporate, so as to attract sponsorship, investment, and the funding required to do even more.
The mantra of Access:VFX is G-S-D. We are in polite company so that means is Get Stuff Done. There is an alternative version, you can work it out for yourselves.
We know there's an issue with diversity in our industry. We don't need more studies or analysis to tell us that. We just need to focus our energies and get on with fixing it. Particularly if as in our case, the strategy is a long game.
We hope that by spreading the word to fresh and inclusive communities of young people, providing Inspiration, sparking Aspiration, will in time lead to Application.
We expect those diversity statistics to shift slowly for a while yet. But if we are successful, a wave of diverse, inspired, emerging talent will enter our industry. It will be an unstoppable, irreversible and generational change. Not a problem that requires the everlasting intervention of quotas, or constant shaming by statistics, but a change that sticks because inclusion will have rightly become the new normal.