Cardiff's leading full-service post house Gorilla has undertaken a major expansion of its Cardiff Bay HQ, boosting its post-production facilities across the board and adding a TV studio.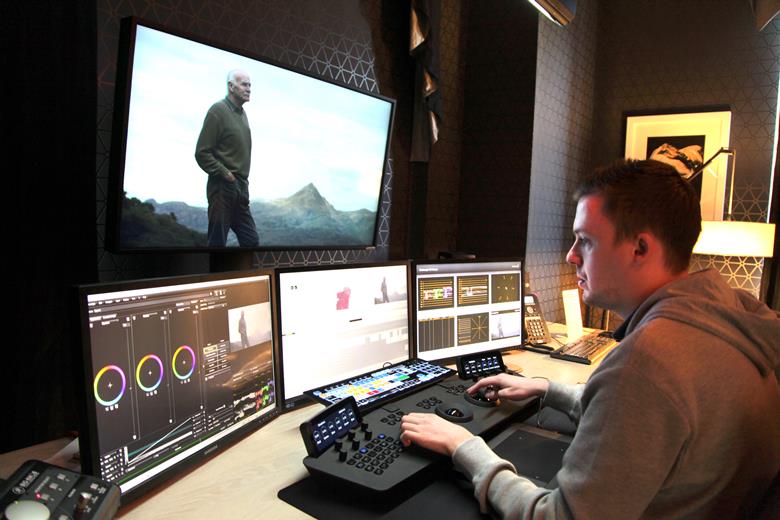 Gorilla has taken over an additional two floors at the GloWorks creative industries centre base, in a facility-wide "expansion, consolidation and refresh" that cost in excess of £1m.
The development adds 10 Avid Symphony online rooms with Baselight grading plug-ins; three ProTools audio dubbing suites with S6 consoles; a 5.1 QC suite; a dual green-screen/set TV studio; and a live-to-air gallery.
The investment equips Gorilla with more than 100 Avids in total, spread across its HQ and in various 'pop-up' edit rooms that provide location-based work. It now has six audio dubbing suites and a separate Foley studio, while its grading facilities include a dedicated 4K Baselight room with a 20-foot screen.
As part of the £1m cash injection, Gorilla has also significantly expanded its storage, which totals a petabyte of Avid stoage, made up of 500TBs of new Nexus and 500TBs of Avid Isis.
It has also committed to purchasing a petabyte of MatrixStore from Object Matrix to provide off-site disaster recovery replication of its post-production and VFX work.
Gorilla plans to incorporate Object Matrix's browser-based content search and collaboration software MatrixStore Vision, along with Root 6's ContentAgent workflow management tool, to provide "browsable media across our network", said managing director Rich Moss.
The new Cardiff Bay TV studio is dedicated to servicing S4C's Welsh-language children's output, and includes all the main S4C Children's set spaces. It was previously based at Gorilla's original offices, elsewhere in Cardiff.
The move to bring the TV studio to Cardiff Bay means the facility now has all its key services in one central location. Moss told Broadcast:
"We have taken the opportunity to move from our original Cardiff location to our main company HQ, incorporating post, animation, VFX and production teams."
Gorilla technical director Rhodri James appointed systems integrator Megahertz to oversee the integration of the studio into Cardiff Bay. The building is backed up with automatic generator switchover and "incorporates our OB and broadcast lines, transforming our GloWorks building into a true media hub", said Moss.
Gorilla's recent productions include BBC2's Surgeons: At The Edge Of Life, and Channel 4's Kiri and Extreme Cake Makers. It is currently posting the next series of C4's One Born Every Minute.